Ghost Mannequin Service – In-Demand Strategy For Clothing Business
Remove dummy, remove mannequin, wrinkles remove and retouch for garments photos. Attract more visitors with our ghost mannequin service
Free Trial
Work Sample

900 / Day
Get large number of ghost mannequin service
12 Hours Delivery
 Images will be delivered within 12 hours
Unlimited revisions
Get Unlimited revisions within a short time
Inhouse Team
We have In house 70 experts Liquify designers.
Neck joint/Ghost Mannequin Service – In-Demand Strategy For Clothing Business
Welcome to Neck joint/Ghost Mannequin Service. For the time being, the world is spinning around style and fashion. It is the 21st century, where clothing and apparel photos are flourishing on all online retailing stores, advertising, etc. It is prevalent, especially to the fashion retailers who market their product to sell to the absolute elegant customer so that they purchase it. Nowadays, to propagate product sales, photos are a must, as only images can bring your products to life. Hiring live models is highly expensive, and scheduling them is also tricky. But a mannequin instead is a smart time-saving deposition. Since you don't want to show it, neck joint or ghost mannequin service is there for you.
What is the neck joint service?
A neck joint/ghost mannequin service works as a consummate resolution to hide the mannequin from your product photos.
When it comes to online dress selling, then appealing the consumers is a prime concern.
So the best filling dress images on your eCommerce sites are a must-have. You need to give your dress on the right fitting mannequin for capturing the photographs of your attire.
While you complete the shooting, remove the unwanted mannequin part and cut the dress neck. Now add the back portion of the central section, which refers to a neck- joint service.
Photo Color Correction Service Applied
Remove Dummy
Background Removal
Why Neck Joint service?
When a mannequin is wearing cloth, a photographer can only capture the outer surface of the fabric, so the inside of the structure remains unspotted. You cannot satisfy your customers just by showing one side of your product. As soon as you want your inner part to be visible, you need to hide the mannequin or dummy from the photograph and capture the inner side again. The neck joint or ghost mannequin service could be your only choice concerning the facts mentioned above.
Who needs Neck joint/Ghost Mannequin Service?
Neck joint/Ghost Mannequin Service is ideal for:
Dresses
Blazers
Gowns
Jeans
Shirts
T-shirts and
Many different cloths


""Note: Ghost mannequin service applies predominantly to different clothing items for online sales and advertisings.""
Types of remove object we provide?
Online Clothing stores
Do you have an online clothing site? If so, then opting for a joint neck service can make your product photographs appealing, stylish, and impressive. Almost every customer likes to see dresses without a mannequin. That's why most of the online fashion dress sellers apply joint neck services to increase their sell.  
Ready made Garments
The full image of readymade clothing is always admirable. To present a complete garment look, front, and back where back image significantly shows back details, such as feature cut, garment styling, and embellishments, you require a professional photo editing effort like joint neck service.
Fashion houses
Neck joint service is crucial for a fashion house to collaborate with the customer showing their product quality.This technique is fit for displaying the inner linings and cuffs of their clothes. Besides, it allows you to share a real experience with your customer of the natural garment's shape and style.
Fashion Photographers 
By ghost mannequin photography, a photographer can achieve the best result (3D effect) while shooting the dummies having clothes from all the directions. Note: The neck-joint service will offer you original product depth if you need only a neck/joint or the entire mannequin.
Advertising Agencies: 
The more realistic photos appeal to customers, the more your valuable customers engage in the site (with clothes and accessories). This service may help you to display the neck, bottom, inner parts, and sleeves separately. And we are here to help you sell more products with high-quality images.
 E-commerce sites: E-Commerce photographer needs this fantastic service to attract their customers and to influence them to purchase. Don't worry; our designers are always concerned about clients' demands and requirements.   
Printing press: Printing press photographers frequently require this service (ghost mannequin) to make their photos flawless. 
Newspapers: We live in such a digital world where newspapers also need neck joint assistance often. This joint neck service is incomparable to highlight any of the images.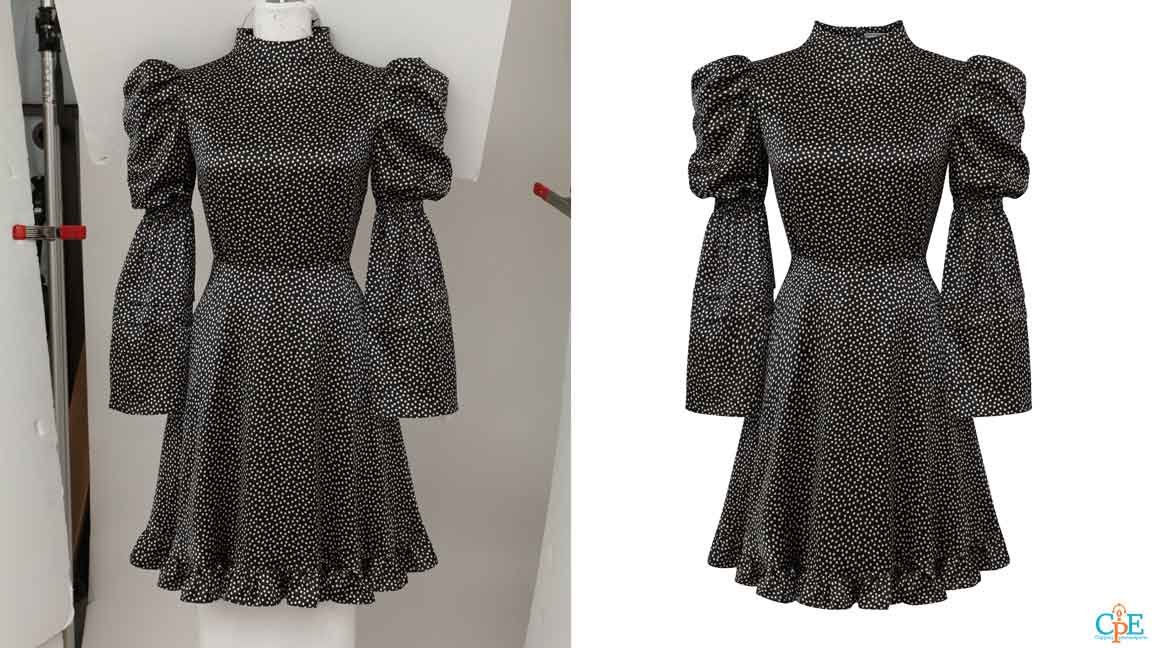 Do ghost mannequin or invisible mannequin service to your apparel garments product photos. Our pricing starts at $0.90. Get a free quote now
Color Correction & Color Variants Service
Perfect Ghost Effect
Consistent Output
Web-Optimized Photos
Remove Mannequin
Extend background
Adjustable Layer File
Retouch Wrinkle
Add 3D Effect
100% Satisfaction
Create Symmetrical
Shape Adjustment
Accurate Resizing
Inline clipping path
Transparent background
New Background
Web-Ready Output
Rush-hour Delivery
24/7 Dedicated Support
COMMUNICATION WITH US TO PROJECT DEALS
We are looking forward to hearing from you regarding your photo editing project! Know us before you start working with us. We are available on phone calls, what's up, over email, and video call through google meet and skype. Take this great opportunity to meet us now.
:What does clipping-photo experts do?
24/7 Editors for joint neck service. So don't worry about our speed of work
High-Quality Controllers to secure quality outcomes.
We edit 1000+ Photos each day.
100% Quality warranty
Very high skilled photo editors (for any kind of service).
A simple ordering process and a simple payment method just to minimize your irritation.
We offer quality images at the lowest price.
Besides, here at clipping photo experts, we also offer you some quality services related to Neck joint/Ghost Mannequin. These are including:
Neck removal and joint: 
Dispelling mannequin from an image, we join the back of the neck and the front parts' photos to make a full shape to create a realistic ghost mannequin effect.
Shaping and structure giving
Without using a mannequin, the customer won't have the proper idea of the cloth's structure. Using a perfect fitting mannequin, then removing the mannequin by applying joint neck service, makes your images more natural-looking.
3D or 360° ghost mannequin
If you want to use rich media like 3D or 360° image for any e-commerce sites or animation video, just message us your photo in various angles. Don't forget to send the lost parts like the top, neck, bottom, sleeves, etc. We are going to fix it according to your demand.
Sleeve and bottom joint
We apply a neck joint on clothing items (long-tail). You will find a few of them with a more extended back section than the front part. While extracting mannequin from this kind of product image, the editor has to add the bottom part of Photoshop. On the other hand, the editor fills up the new place, adding sleeves (such as shirts, T-shirts, and jackets, etc.) to hide the dummy from the inner part of the sleeves.
Things to consider:
High-end quality:
We never compromise our work with excellence. Our experienced designers are completing the neck-joint service with high-end quality. Experts check twice by QC before sending it to the client to ensure clients' requirements.
On the delivery:
We pledge to deliver your order on time and every time. We send a quote for every project in 45 minutes or less. We provide the most-friendly service most efficiently.
Affordable price:
We care about your every hard-earned money. So our price is always within your budget. We offer discounts depending on your abundant amount of orders.
What is a ghost mannequin Service?
Ans: A Ghost Mannequin Service, also known as a Neck Joint Service or Invisible Mannequin Service, is a service provided by image editing companies specializing in this e-commerce technique (the ghost mannequin effect).
How do you take ghost mannequin pictures?
Ans: Ghost mannequin photos are a great way to capture memories of a loved one. You can take pictures of your loved one in their natural environment, or even with their clothes on if you want to be extra creepy. There are many different ways to take ghost mannequin photos, so it really depends on what will make your loved one feel comfortable and happy.
What is neck joint service?
Ans: Photo Neck Joint Service is called invisible mannequin service or ghost mannequin service. Simply put, it is a specific photo editing method used for the removal of a model from any garment photo. Basically, it is completed with the aid of Adobe Photoshop a program for digital image editing.
What are the neck joints called?
Ans: Neck joints is called ghost mannequin, invisible mannequin or photo manipulation.
What is photo manipulation service?
Ans: Photo manipulation is the process of manipulating a person or object's image to create a desired outcome. This can be done in a number of ways, including Photoshop, After Effects, and Illustrator. There are many different ways to achieve different results, which can be great for creating realistic or special effects.
How much does photo manipulation cost?
Ans: There is no definitive answer to this question as photo manipulation can vary greatly in cost. Some common techniques used in photo manipulation include shrinkage, rotation, and cloning. It can be difficult to determine the exact cost of each technique as this varies depending on the size, complexity, and usage of the photograph. However, a rough estimate may be able to provide a ballpark idea.
How much should I charge for photo manipulation?
Ans: Photo manipulation charge depends on images. We are start photo manipulation charge $0.80/Images.
What program is best for photo manipulation?
Ans: Adobe photoshop is the for photo manipulation services
Can I pay someone to edit my photo?
Ans: yes You can pay via PayPal, or Payoneer to edit your photography.
Final verdict
We usually provide our Neck joint/Ghost Mannequin Service to the garment industry, e-commerce business, photo editing agency, professional photographer or editor, newspapers, and so on. We know how essential it is to achieve a naturalistic look to draw customer's feel to sell the item. No matter you shot the image using a transparent or non-transparent mannequin, we can give a better look to your vision. We'll try our best to add texture to your pictures more, and ultimately, your business expands. We believe trust is the building block of business. And your order is safe for us. So, whenever you need a neck-joint service, leave a small message to us and stay calm.
Clipping Path Service FAQs
How many images can we do ghost mannequin editing in a day?
We have a strong and Hard Clipping path, retouching workers. They are Highly experts and dedicated to their work. We can deliver 900 images ghost mannequin image editing without concern
Which types of business need to this service
Clipping path service is the most important for e-commerce business owners or photographers. Product photo editing is used online and ecommerce stores. It is important for many services like Professional Photographers, ads agencies, eCommerce businesses, Online retail stores, retail company and so on.
Do you have free trial facilities?
Of course, always we do offer free trial facilities up to 2 /3 images so that you can judge our service quality before taking your final decision. Please send me your images this email sales@clippingphotoexperts.com
Which image formats do you accept?
Over the past 12 years, we have developed our skill to work with various image formats. Here is a few types of images formats such as psd, ai, eps, jpeg/jpg, png, gif, svg, cr2, tiff and pdf.
How can I upload my photos file?
You can upload your files using our absolutely secured ftp or you can use third-party file transfer protocol like dropbox, we transfer, one drive and google drive.
Do you safe my images?
Yes, 100% without doubt. It is a paid file transferring protocol that is highly secured. We know the value of your images and we are committed to receive your files with highest security and confidentiality.
How do I know my images are ready to download?
You will be notified when images are on our server and ready for you to download. We send you a secure dropbox wetransfer and google drive link.
Can I pay weekly / monthly?
Yes, if you wish, then you also can. Those of our customers, who need our service frequently, they've got the alternative to pay weekly or monthly. If you satisfied our work you can send your payment any time. Basically, we accept payments weekly and monthly.